HOME-MADE SUSHI by Krolik®
Translation from Russian to English by Pauk.
Russian page - here
What is sushi - What you will need - Getting ready - Cooking - Eating the dinner
What is Sushi
Sushi is a Japanese delicacy, one of the main ingredients of it is a raw fish, and if you are not emotionally prepared to face your fears and consume the raw flesh of fish, you better start preparing, but for now you can enjoy other sorts of sushi like Pauk, who enjoys such sushi with cooked shrimp or crab meat. Sushi is a very healthy food for your body and mind. Rice, fish, soy sauce instead of salt, and various other spicery is the secret of the eternal youth and beauty of the Japanese. Krolik herself saw the wonder in Hawaii.
For those who had never tried sushi, we recommend doing so in a sushi place, yet do not go in to a cheap "gas station" type food place, there you will taste the "frozen sushi" which they get delivered from main kitchen. Then again, you can save money on restaurant, and simply trust Klolik that it is delicious, and of course, healthy! Krolik promises you that the trouble you will go through to find the ingredients is worth it!
Sushi comes in many shapes and sizes:

1. Plain Sushi -
Piece of raw fish
or shrimp
on a "ball" of rice.

2. Sushi Roll comes in 2 designs:
regular and inside-out

3. Hand-roll:
cone-shaped
Sushi consist of two parts: A) Boiled rice sprayed with rice vinegar. B) Something else. Usually part "B" consists of some kind of fish, octopus, eel, crab meat, fish sticks, or anything else your fantasy makes up! Here we won't get into experimental cooking...Yet.

If however you have already became sushi fan, then Krolik will gladly teach you in the next few pages an inexpensive, and yet fast way of sushi-making. When you will get a hang of making sushi, you will start thinking, why not open a Sushi restaurant of your own?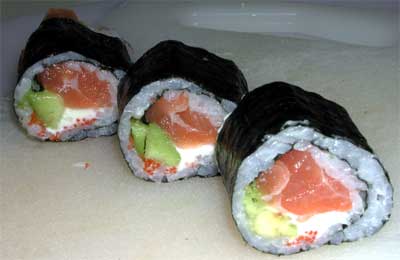 | | | |
| --- | --- | --- |
| previous | | |